INTERVIEW: Rhett Miller
Ex. Old 97's Artist Discusses Solo Life (Elektra Records)
By: Alex Steininger



"Seeing that the 97's are a democracy through and through, inevitably, some of these tons of songs I write will get vetoed. The first time that happened (and every time thereafter), I consoled myself with the thought that sooner or later I'd make a solo record," says Old 97's front man Rhett Miller on his sophomore solo record, The Instigator (Elektra Records). "Also, the solo-ness of it allowed me to go places lyrically and musically that I wouldn't have been able or allowed to go in the band setting. I guess that's the whole point of a solo record, though."

Recording the record in two weeks instead of six months, following Miller's move from New York to Los Angeles, the lush, passionate songs, produced by producer/musician Jon Brion, were able to retain a relaxed, fun vibe. Rather than the labored over, sugary texture that a lot of major label debut solo records fall prey to. And with the help of Brion, Miller was able to successfully move beyond the alt-country limitations of his rock outfit, The Old 97's, and re-create himself, and people's perceptions of his songwriting, with a poppier, but equally potent sound.

"It was very inspiring and very low key," Miller says of working with Brion. "Also, he made me a better singer. He showed me the importance of restraint, which really isn't my strong suit".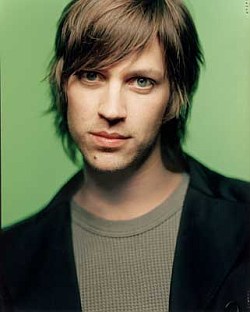 "Jon Brion is a bona fide music machine," continues Miller. "I mean he's a freak! Am I the luckiest guy in the world or what?"
Working with Brion helped bring out the best in Miller, who is nothing more than ecstatic about The Instigator, and the way it turned out, crediting a lot of it to the contributions Brion made to make the record a reality.
To Miller, the opening and closing tracks, "Our Love" and "Terrible Vision", respectively, are the highlights of the album. They are his two proudest moments, though when discussing fan's reactions to the record and Miller's new direction in songwriting, it is apparently clear that he is completely happy with everything between "Our Love" and "Terrible Vision" as well.
"I can't try and predict what fans will think," Miller replies, when asked if he thought about fans would say about his new direction before making The Instigator. "That would be compromising my songwriting integrity. I don't try to write down to the radio, I just write what comes, there's no calculation. As for the fans, there will always be a percentage of them pissed off that I don't sound exactly like some other thing I've done in the past. I know that going in, but I don't mind. I have faith in myself and my internal radar - I'm not going to turn into some shit head, or as you put it 'a pretty pop star'."
Luckily for Miller, the backlash has been next to nothing, with hardcore Old 97's fans actually embracing The Instigator.
"I have tons of old school 97 fans tell me how they heartily approve of The Instigator," Miller says, somewhat surprised. "Heck, 97's drummer Philip's daughter sang 'Our Love' to me on my answering machine, as did Robbie Fulks - that's the spectrum of the approval that matters to me."
Following the release of The Instigator, Miller set out with a grueling, non-stop touring schedule, including a full-band headlining tour and a larger tour opening up for Crowded House's Neil Finn solo acoustic.
"If I couldn't have all the Instigators, which was the case due to Elektra's (and the whole industry's) budget crunch, then it didn't seem right to do it half-assed," Miller says of his decision to go out solo acoustic on Finn's full-band tour, despite sharing a drummer with Finn.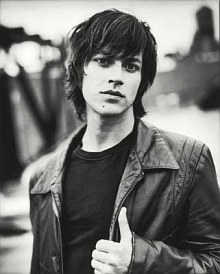 "The singing is fun, but the main difference (outside of the lack of noisiness and camaraderie) is the talking between songs like it's Storytellers or a coffeehouse. I'm getting stand-up comic chops," says of his experience opening up for Neil Finn.
However, despite "getting stand-up comic chops", Miller feels there is no substitute for his touring band, The Instigators, which includes longtime friend and musician-around-town Salim Nourallah on guitar, drummer Scott McPherson, and bassist Danny DeLaMatyr. "The Instigators is huge fun," Miller tells me. "I'm sure I'll play with them for years on stage and in the studio. They rule."
Miller is currently off of tour, delving into one of his other projects, the Ranchero Brothers. However, he will be on the road again later this year, once again in support of The Instigator. As for his future plans? He tells me he "hopes to continue to make 97's records, solo records, Ranchero Bros. records and whatever comes next for the rest of my days."