INTERVIEW: Roxy Saint
L.A. Vixen Gets Down and Dirty with videos, music DVD (Star Blue TV)
By: Alex Steininger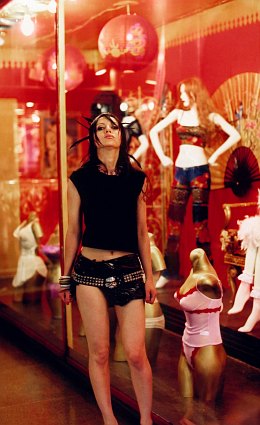 "Most of my idols are males," says Roxy Saint, leader of the Los Angeles-based outfit Roxy Saint and The Blackouts, a mischief-driven, hell-raising, rock 'n' roll rebel outfit that recently released their debut offering, The Underground Personality Tapes. "I looked up to Mick Jagger. I wanted to know why girls couldn't be like that. I wanted to be the queen of rock 'n' roll."

Defying convention and going against logic, Roxy Saint, who is more than a mere musician, her description also including the titles artist, director, guerilla filmmaker, released The Underground Personality Tapes as a DVD. The album will not play on standard CD players.

To combat this, and prove a point to the industry, each song includes its own video, with the video for "Firecracker" starring Queens of the Stone Age.

"I'm trying to change the format of music for a minute," explains Roxy Saint on why she released a debut DVD rather than an audio CD. "I went out and put in all this work into my project and got Queens of the Stone Age and Coal Chamber to be in my videos. Then three labels offered me deals - major and big indies - and I turned them all down."

"I wanted to prove a point to the people, to the industry, to everyone that told me I couldn't do it," she continues. "I wanted to prove that it wasn't just the music, I wanted to put visuals to the songs and the only way I could do that was making it a DVD. I don't want to prove my point forever, but for now, I want to prove my point. And to put out an audio CD this soon would defeat my point."

Ready to fight to earn the title of the queen of rock 'n' roll, Roxy isn't about to step down, fresh off the release of the DVD.

"A guy at a record label told me if I was his girlfriend he'd give me a record deal so I wrote the song 'I Hate All You Motherfuckers'," Roxy tells me.

It is this kind of in-your-face attitude and do-it-yourself spirit that has won Roxy acclaim in Los Angeles, a growing legion of fans, and The Agency Group (one of the nation's biggest booking agencies) to pick her up and work with her.

"I'm not scared to say what I want to say. At my shows I'll say something and people's mouths will drop. It's the same things they want to say, but I say it," she boldly proclaims.

An unusual woman, to say the least, Roxy is definitely more tomboy than feminine, but with a look that make all the boys' knees shake and jaws drop each time she walks by. One of the things that make Roxy so unique is her tendency to be surrounded by beautiful women, much like the stereotypical male rock star.

"Keith Richards always had beautiful women around him so, I figured I'd get some too," she jokes.

But, the sexuality and the persona due come at a cost.

"In Hollywood I have stalkers. People will knock on my door at 2am, so I can't answer the door. My guitar player now lives with me so I can feel a bit safer," Roxy says without regret, making it clear in her tone she wouldn't take back anything.

One of Roxy's most shocking moments comes in the video for "Firecracker", the video that also features Queens of the Stone Age. During a scene filmed in the bathroom, Roxy, naked in a tub, shoots period blood into the tub, the water quickly changing from clear to red.

"I grew up with religion," Roxy tells me. "The period blood-- I was at the end of my rope. I don't know what took over me, but I wanted people to listen to me. It was just a moment and people listened when I did it. It's what I had to do. I don't regret it, even though some people didn't want me to do it. The director didn't want me to do it, and he shot videos for Ministry and Nine Inch Nails. But, I told him he was in or out and he said, 'alright'."

She starts laughing and then says, "I got my tits out and had period blood in the bathtub, so the Queens of the Stage Age guys said they were in. They had never seen me with my top off."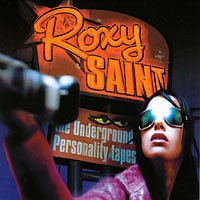 The songs that comprise The Underground Personality Tapes were recorded in friends' apartments. Roxy would just bring Pro Tools over to people's places and start recording in their living rooms.
However, despite the limitations of the recording gear and the locations they recorded it, Roxy got a sound defined by sonic undertones, loud, crashing rhythms, and fierce guitars -- something that sounds so hard and pounding, so powerful, you would have never guessed she did it herself.
For Roxy, though, it's all in a day's work for the talented, if not downright amazing artist. What is she most proud of then, if it isn't her filmmaking abilities, her goal to redefine aural and visual stimulation, or her ability to get a solid recording from a makeshift studio?
"I'm most proud of our live shows now. It's a scene. Girls are taking their tops off. It's so wild. It's like the Rolling Stones came back with the Sex Pistols," she says excitedly. "I say it's not like anything else. We get comparisons to Guns 'N' Roses, Marilyn Manson, and Jane's Addiction. But, we're our own thing. There is always a scene around me. The Rolling Stones always had girls with them and so did Andy Warhol. And so do I."
She pauses and then laughs, "Backstage at a Roxy Saint show is insanity, too."
Roxy has already written the next record, and is in the studio recording it. Her focus, though, is still on pursuing and pushing The Underground Personality Tapes to the max.
"If we're going to tour, we'll have the audio CD released, because the DJs can't play the DVD," she admits. "Right now I have DJs coming up to me all the time asking why I don't have the audio version of the CD out. I have no regrets at all, though. Eventually we'll release a tie-in, a CD people can play in their cars. But right now I'm still trying to prove my point."
And prove her point she does. Combating piracy, offering more than just music for your $20.00, and showing that music is equal parts aural and visual, Roxy Saint has succeeded in changing the format of music -- at least for the duration of the DVD.