INTERVIEW: Rosey
Rosey's Sexy Sounds - funk? rock? pop? soul? (Island Records)
By: Alex Steininger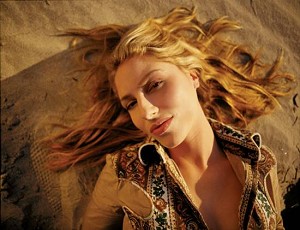 Born and raised in New York, growing up on everything from The Beatles to soul to funk, and spinning world music at her college's radio station. Rosey is the melting pot of music, a singer/songwriter who can do it all, as her debut solo record, Dirty Child attests to.

Recently released on the major label Island Records, it marks several years of hard work that finally paid off for Rosey. From working two jobs to pay her backing band to rehearse and perform live, through busking the country to see if her songs were something people wanted to hear, Rosey has never doubted herself, even when those around her weren't quite so sure.

"I graduated from college and decided I didn't want to work in an office or have a nine-to-five gig, so I made up my mind that I was going to be a musician," Rosey laughs. "But my parents weren't convinced and tried to talk me out of it.

"Now they're proud," she reports, "and say they knew I could do it all along."

Fresh out of college, and with little guitar skills ("My guitar playing was shit," she says), she toured around the country and was pleasantly surprised when people paid attention. Feeling good about the choice she made, she moved to San Francisco in 1995 and formed her first band. Playing out constantly for two years, the band called it quits when the drummer died of a heroin overdose. Reluctant, but not defeated, Rosey moved back to New York and hired a variety of backing musicians to help her perform her songs live.

"With rock bands it's a lot easier, they're in it together," she states. "But I had to work two jobs to pay everyone to play and rehearse in my band."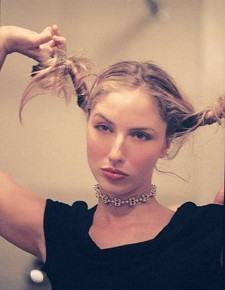 It was back in New York that things started to really take off for Rosey. She caught the attention of a few labels who sent their A&R personnel out to her shows. One in particular became an avid fan, going as far as trying to sign Rosey to the label she worked for.
With major labels in flux and signings on hold, Rosey didn't land the major label contract she was hoping for. But she kept in contact with the A&R agent and, when the label began looking for more artists, the A&R agent went to bat for Rosey, resulting in Rosey's signing to Island Records.
Rosey then met producer Daryl Swan, packed her bags for L.A., where Swan, who was anxious to work with Rosey, had a studio. She left her band behind and headed out West for the sunshine, and to fulfill her dream.
Two years later Dirty Child was released.
"My producer was working with Macy Gray, on her second record, at the same time, so I'd have these waiting periods," Rosey recalls. "Most artists don't have the liberty of time. But I got lucky and got to live with the music and make sure I was happy with everything."
The hardest part of making the eclectic record she wanted, something that encompassed the sounds she grew up on - rock, pop, soul, jazz, funk, and the blues - was choosing the right songs for the album.
"I have over 100 songs, and it's always hard to choose the songs that I want to concentrate on," she confesses. "I made a list of all the different styles and picked a few from each list that would go on the record and we worked from there."
When Dirty Child was released, Rosey and her new backing band quickly hit the road and toured heavily in support of the record, garnering the opening slot for a Melissa Ethridge tour.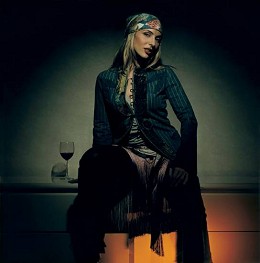 "We played to crowds between 2,000 and 6,000 a night. I went from playing CBGB's to playing amphitheaters," comments Rosey. "It was during this tour I realized I wanted to focus on just being a singer, instead of a guitar player and a singer. When you do that they kind of meld together, and it was very free to let loose and just sing."
Rosey now plans to do her own headlining tour, forgoing the standard rock club format in favor of the Borders chain and mom & pop record stores.
"I'm going out and doing a solo acoustic tour with my guitar player," she informs me. "We're going to play a lot of Borders, indie stores, colleges... we'll play anywhere we can. But we'll sporadically play some club dates here and there, too."
"I love the band," she continues. "But I can't afford to bring them out. It's very expensive. We're working on getting on some opening slots, but until then it's too expensive, so we've got the next few months mapped out with the acoustic duo."
Rosey's ultimate goal?
"One day I would like to record an entire blues record, a trip-hop record, and a jazz record. Though, first I've got to get this off the ground."