Various Artists
Maybe This Christmas Too? (Nettwerk)
By: Alex Steininger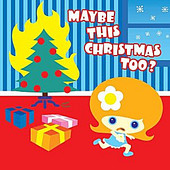 With everyone from indie rock darlings Rilo Kiley and Badly Drawn Boy, quirky pop masterminds The Flaming Lips, and seventeen cover girl Avril Lavigne. As well as the Dave Matthews Band, Barenaked Ladies, and Rufus Wainwright, to name a few, Various Artists: Maybe This Christmas Too? plays like one of the most diverse Christmas albums out there.

Embracing the diversity, somehow the artists make it fit together swimmingly, as Maybe This Christmas Too? is one of the better Christmas albums released in recent years.

Flaming Lips' fucked-up, but eerily beautiful cover of "White Christmas" is both gorgeous and haunting (as you knew it would be), while Rufus Wainwright's "Spotlight On Christmas" adds a little dance to your celebration.

Rilo Kiley's "Xmas Cake" is as beautiful as awaking to a snow-covered street, the bells chiming in the holiday spirits, while the relaxed instrumentation and laid back vocals offer up something perfect for sitting to the fire by.

And let's not forget the Barenaked Ladies' humorous "Green Christmas", a tongue-in-cheek ditty that puts the humor back in the holidays.

A bright, engaging Christmas album with something for everyone, Maybe This Christmas Too? says "out with the old, and in with the new", as your family embraces the new Christmas album for your gatherings. I'll give it a B.