Various Artists
Maybe This Christmas (Nettwerk)
By: Alex Steininger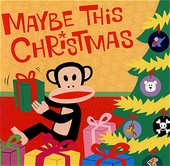 What would Christmas be like with Phantom Planet, Bright Eyes, and Jack Johnson singing your Christmas favorites? Jimmy Eat World, Ron Sexsmith, Ben Folds, Crowded House's Neil Finn, and Semisonic's Dan Wilson penning the classics of the future? And Sense Field, Vanessa Carlton, Coldplay, and Barenaked Ladies doing their part to make the holidays a bit brighter?

Christmas would be unstoppable, at least musically. Luckily, Maybe This Christmas delivers the goods. A thirteen track compilation of the year's hottest artists getting together to do their take on Christmas songs.

Phantom Planet turns "Winter Wonderland" into a lightweight pop-rock song that jumps between the ballad-y verses and the rock 'n' roll chorus, while Bright Eyes delivers a sullen, weepy rendition of "Blue Christmas" that pulls at your heartstrings.

Meanwhile, Ben Folds' adds his tongue-and-cheek humor to the holiday spirit on "Bizarre Christmas Incident", a jazzy, lounge-pop song that will remind you of the carefree attitude and giving nature Christmas is all about.

And let's not forget Neil Finn's beautifully composed ballad, "Sweet Secret Peace", the perfect song to roast chestnuts over an open fire while you hold your loved ones tight and fill up with the Christmas spirit.

One of the best Christmas albums out there (and there are thousands of them on the marketplace, if not hundreds of thousands), the mixture of the standards with newly penned songs make this a record you can revisit even after the holidays are over. I'll give it an A.