HotSocky
HotSocky (Billtown USA)
By: Gail Worley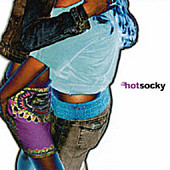 Power pop has been thriving in the rock underground for thirty years or more, yet the most sublimely sweet of all pop music genres never quite breaks into the mainstream, no matter how many rock critics and college students love, love, love it to death. And, sadly, for most bands, being a critics' darling or having the most-downloaded MP3 does not pay the rent.

About one in ten CDs I hear sounds only marginally less horrifying than the other nine pieces of crap before it. Maybe one in twenty CDs is really worth a second spin. One in fifty is as good as HotSocky, a NYC quartet that happens to be fronted by lead vocalist/ guitarist Greg Lattimer; the same Greg Lattimer who fronted one of the most original and talented NYC rock bands of all time, Thin Lizard Dawn. TLD recorded songs that sounded like the Beatles meets Ween. Only a million times better. For a few years, back in the late 90's, Thin Lizard Dawn was my favorite band, before they got chewed up and spit out by the big bad corporate record label monster machine. That was a major drag-ola, but anyway, life goes on. Greg is back and HotSocky rule the school.

The only band really comparable to HotSocky is, not surprisingly, Thin Lizard Dawn, so if you dug TLD or if you've got a taste for classic bands and 70's chart toppers like The Beatles, Queen, 10CC and Cheap Trick, you should just buy this album. All twelve songs are brilliant. "Time Bomb" is an edgy pop anthem not unlike what you might hear from a Saturday morning cartoon version of The Fab Four and "Hang On," throws down the manic, jangly guitar pop that Buzzcocks fans will drool all over. Greg's vocals combine the dry-wit of John Lennon circa The White Album (Think: "Happiness is a Warm Gun") with a little sugarcoating ala Mickey Dolenz of the Monkees.

It cannot be over-emphasized that HotSocky is pure power pop, not that smarmy, gawdawful mind-numbing "Pop/Punk" idiot rock crap you hear spewing forth from every band like Good Charlotte, Sum 41, the Ataris and every other band that defines mediocrity, derivativeness and compromise. If I ruled the world, HotSocky would get to fight bare-knuckle death matches against all those bands, and HotSocky would, of course, emerge victorious!