Hotter Than Hell!
An Injection of Psychobilly Madness! (Hairball 8 Records)
By: Alex Steininger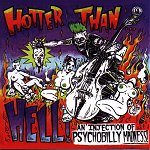 A bunch of greasers got together, while their punk rock records were blaring in the background, and started to discuss their love for old time country like Hank Williams. The next thing you know they're pulling out their upright basses, punk guitars, and slippery drum kits and hammering out some roots music that incorporates early rock 'n' roll, the rise of punk, the good days of country, and balls-to-the-wall excitement that just can't be fabricated. Is this a psycho's idea of fun? Well, probably, why else would you call it psychobilly?

With the recent resurgence in swing, and the youth of today looking for music from the past as their inspiration, and others looking back to when rock 'n' roll was fun, rockabilly seems to be making a comeback in all forms. Whether it be punkabilly, rockabilly, psychobilly, or whatever the next label will be to slap on hybrid bands who focus on their love of rockabilly, it's evident that the time is now and Hairball 8 Records has filled the void with some great psychobilly from around the US.

Twenty-seven songs total, this compilation covers it all. Mutated country music that feels and acts like wild punk rebellion, in-your-face punk that makes you want to dance, and surf riffs that sit nicely on top of rockabilly beats all interact perfectly with each other, forming a natural bond that will amount to hours of non-stop fun. Why, one minute you'll be listening to the drunk, twangy feel of Hillbilly Hellcats' "Hillbilly Cats on Speed," and the next will find Hayride to Hell's "Rockin' Coffin Bar" throwing metal riffs with a thrill your way.

But the joy ride doesn't stop there. "Live fast and die young" with Curse of the Pink Hearse on "Sweat in the Pillow." They start you off with some Elvis Presley, and the next minute have you questioning as to if this is a Mike Ness fronted punk band. Then more country is thrown your way on "Major Trouble (from Ursa Minor)," by Three Blue Teardrops.

Although there are a few weak tracks on here, the overall attitude and spirit keeps it alive from start to finish, and helps boost up even the weak tracks. You just can't go wrong with the cohesive, yet diverse, feel you'll find on this disc. I'll give it a B+.