Halestorm
Breaking The Silence (Halestorm)
By: Gary "Pig" Gold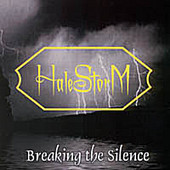 I've been virtually following the steady progress of this young, familial Pennsylvania band for several years now, and was fortunate enough recently to have witnessed them shatter the deathly silence of a typical Hoboken night with a live set which wouldn't have been one spec out of place within a venue the size of, oh say, Madison Square Garden's. So when my copy of their "Breaking The Silence" CD again made it to the top of my listening pile, I thought I should tell you all about it too.

About how these seven tracks, swaying seductively twixt expert power balladry (ie: "I Forgive You") and heavy-molten party-crashers ("Shout It Out" really truly is The Great Lost Heart Hit!) showcase songwriting and arranging skills far beyond the band's years. Everything's nailed solidly hard down throughout by drummist Arejay Hale (imagine a Zac Hanson with plenty of dirt under his nails, not to mention crash cymbals), but the focus squarely shines upon vocalist Elizabeth Hale, who remains equally at home getting soft ("Rose In December") then again playfully rough (why, deep within her chameleon throat, the musical manifesto which is "The Children" actually sounds like a THREAT --as in Twisted Sister minus the nyuks).

As I said, this is a band still young, with a long road ahead of them. But they certainly have sufficient goods packed to ensure the ride is nothing but a nice big loud one.