The Hal Lovejoy Circus
American Made (Beyond Records)
By: Alex Steininger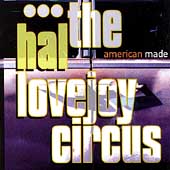 A three-piece rock outfit, The Hal Lovejoy Circus fizzle on their second album, AMERICAN MADE. The album has a few sparkling moments, but for the most part, falls into the modern rock, watered down, run-of-the-mill styling that so many bands these days find themselves trapped in.

The humor and quirky essences of this album are a delight, but don't appear nearly often enough or they'll bleed into the modern rock mush and do little to nothing to break the chains the band straps on themselves. The majority of the album is spent floundering around as they try to capture the listener with some explosives. But, they end up blowing up in their face and falling flat.

I was definitely not impressed with this album. I couldn't find one song that kept me interested throughout. They had me during some bridges, choruses, or verses, but did little to keep me listening throughout the song, let alone the album. After a few listens the whole album was forgotten. Nothing memorable here. I'll give it a D+.