Animal Collective
Spirit They're Gone, Spirit They've Vanished / Danse Manatee (FatCat)
By: Cam Lindsay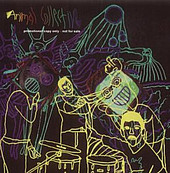 Beware: Do not use headphones when operating this Animal Collective double album. Though New York's Animal Collective (Avey Tare, Panda Bear, Geologist and Deaken) happen to make some of the most rich and diverse sounds the human mind has ever discovered, there are moments on their two first records that are almost too intense for the human ear to witness. Re-released by the ever-growing FatCat Records, Animal Collective's debut album, Spirit They're Gone, Spirit They've Vanished, along with their second album, Danse Manatee, have been combined as one massive double disc.

2000's Spirit They're Gone, Spirit They've Vanished (actually credited as an Avey Tare and Panda Bear album), their wonderfully creative and critically heralded debut, takes aural exploration among pop music to another level. Like listening to one of The Flaming Lips' Zaireeka discs without the other three, Spirit manages to present it's own slice of originality, a near impossibility in music these days. Far beyond a typical mind-expanding drug album, its psychedelic matter is based more on merge elements of traditional pop music with majestically crafted sounds from heaven, a la Pink Floyd's Piper At The Gates Of Dawn.

2001's Danse Manatee brought another likeminded figure, Brian Weitz (aka Deaken), into the fold with Tare and Bear to help craft a different sophomore release. Based more on a live sound, Danse feels quite relaxed, whereas Spirit seemed to be created in more of a hostile atmosphere. A slightly more passive and less daring album than its predecessor, Danse brings more percussion and improvised vocals to the foreground of the recording, while less attention is given to creating the attractive noise that made the first disc the mind-blowing accomplishment that it is.

A nice companion piece to the recent album, Here Comes The Indian, this double album introduces some truly innovative and magical pieces of music that has been missed out on in the past because of its poor distribution and attention.