Anima Nera
Anima Nera (Stereo Records)
By: Vinnie Apicella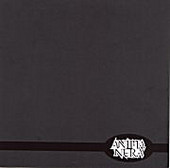 Anima Nera embodies a number of extreme metal timelines and styles neatly presented in one blissful if bleak package. At the forefront lay pummeling Black/Death screams led by a barrage of power chord progressions, speed riffing, and dual guitar harmonies, all supported by a dense layer of bottom heavy 4/4 and double-kick percussion. They're reminiscent of early age UK greats and more recent Nordic heavyweights like Amon Amarth, In Flames, and The Haunted where extreme brutality meets melody and musicality -- "Beneath These Skies," "Somber Eyes, "My Razorblade Romance." And then there's a touch of the European class where grim collides with gruesome, smattered with Gothic subtleties, exemplified on tracks -- "At The Feet Of The Wicked" or the nihilistic terror exhumed by "Flatline," a "Mercyful-ly" dark song that's blindingly fast and loud and incorporates an unexpected acoustic drop for elegance at the center. "The Ashes Of Innocence" is a crooked jaunt through the corridors of the Prog/Death that aims for modernity as one might pass a glance toward fellow American extremists Shadows Fall, Beyond The Embrace, or Lamb Of God.

Anima Nera's self-titled debut is an impressive display of excessive aggression and melodic marksmanship, portraying the dim side of the human psyche amid somber wanderings in the dead of night. Outside of dangerous speeds and deafening volume, rarely do these attributes parlay or serve to suggest the musicianship that lay at the core of most Death Metal groups as something of substance. The band proves that songwriting skills and a continued focus on progressive depth and traditional influence will revolutionize the dead weight of yesterday's uni-dimensional design. Their powerful and precise style of play will leave a lasting scar on first time listeners or continued skeptics reared on the Scandinavian scene-- none of which proves evident on the three minutes of "Untitled" background effects and their noisy cover of Motley's "Too Young (For Black Metal)" spin-off here. But eight of the ten ain't so bad! Expect to hear more about Anima Nera in the near future.