Ganymede
Space and Time (Cohaagen)
By: Jett Black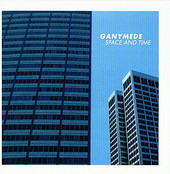 Welcome! Beautiful new opportunities await you in the off-world colonies where you can now enjoy GANYMEDE'S latest enhanced tour of SPACE AND TIME, DISC 1: the third action-packed dance album by Oakland, CA's GANYMEDE, brilliant electro Pop stars synergising dance floors from coast to coast across 2 planetary continents with definite club hits ("FREQUENCY 1000") that even have sea creatures making waves of appreciation.

High energy dance finds powerful endurance from great synthpop tunes like "MISSING" and "DISTANCE". While all the songs in this collection carry forward the romantic passion and style of 80's retro (especially thick on romance: "MAYBE FOREVER"), certain dance anthems are found in catchy gems such as "ETERNAL" and "HONG KONG".

SPACE AND TIME continues the audio program with DISC 2 features delivering mixed versions of 7 songs (appearing in original format on DISC 1) and adding into the mix also 2 additional songs: "DEPARTURE", and "MESSAGES".

Don't ditch your dance shoes yet! "DEPARTURE" kicks DISC 2 into sonic overdrive and maintains a steady groove to help you burn through a pitcher of RED BULL. "DISTANCE" pours on the BASS! "HONG KONG" delivers a surprising (and virtually unrecognisable) acid-induced, back-seat version of the original tune now beautifully complicated with dissonant head-noise. Get your Sugar FIX here with the "HONG KONG (BLOW-UP MIX)"! It's TIC-TAC FAN-tas-TIC!

And the fun just doesn't stop! For a good time, pick up the "DRUG OF CHOICE MIX" (MAYBE FOREVER). BPM CENTRAL begins again with the "RAINDANCER MIX" of MISSING. All the PET SHOP BOYS fans unite and uplift GANYMEDE! SPACE AND TIME - the dance mixes is where it's at! Mixes of "ONE LAST TRY" and "ETERNAL" bring the slow-beat romantics back out onto the dance floor, arms enfolding arms, the hypnotic grooves laid down like a road map into outer space. "MESSAGES" brings the hyper-space transport back along side the mothership, awaiting all the beautiful people. Climb aboard!

And now, for your in-flight entertainment...

There's MORE! GANYMEDE DISC 2 EXTRA FEATURES: LYRICS, DISCOGRAPHY, the "DAYLIGHT" MUSIC video, the www.GANYMEDE.us OFFICIAL WEBSITE, and... my favourite feature:

"ETERNAL" a fully-interactive race car game! I HAVE FOUND MY LATEST MINDLESS ADDICTION! Top Speed: 125 mph, using nothing more than the arrow keys for HI/LO acceleration and steering. I cleared the HIGHEST Score before blistering my index fingers (16275), Stage 6. I'm going to try adjusting a joystick next to find out out just how many more stages await inside the ETERNAL game section of DISC 2.