Gangster Fun
Pure Amphetamines (Jump Up! Records)
By: Alex Steininger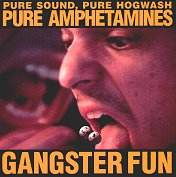 The only band playing ska in the Detroit area during the late 80's, when Midwest ska comes up their name is repeated again and again. Releasing two full-lengths since their inception, following the release of their second album, TIME FLIES WHEN YOU'RE GANGSTER FUN, the band went into hiding for quite some time. Fielding the usual 'break-up' rumors, with their new album they prove that they may have been gone, but they still know how to make fun ska. Hyperactive 2-Tone, this album will have you steppin' to the beat while an amused smile jumps out from your face.

Starting off with "Blue Serge Suit With A Belt In The Back," Gangster Fun begins with an 80's 2-Tone sound that relies on as much of the upbeat from the guitar as it does on vocals and horns. The sound is danceable, a bouncy number that is two parts pop and four parts ska. All this is made possible through the strength of the band, mixed with the humorous touch the vocals contribute. Making every word sound as if it was the punch line to a joke, the vocals help put the 'fun' back in Gangster Fun. That's not to say the band isn't a vital piece in the party, because they are. The percussion keeps your feet tapping, while the horns drive the melody home with each note. The keyboards help add more depth to the sound, giving it a more cohesive feel. All while the bass is throwing in some chunky notes into the mix. "Date With Density" is another relentless number that proves Gangster Fun's ultimate goal is to get a big smile across of your face. Quirky horns lead the way while the guitar fires up the coals even more, giving you only one option, to dance! Jumping into some unusual sound meshing, the band turns the song into an array of different carnival noises, all focused around the powerful rhythm section and charming upbeat. "Skarabia" is still filled with the band's humor and wit, yet this time they slow down the pace a bit. Instead of playing their usual hyperactive 2-Tone style, they decide to give some props to their musical heritage, implementing some traditional ska melodies and jazz horn lines. As the name suggests, the song has an Arabian feel to it. As you listen to it, you'll be reminded of the all the Middle East movies you've seen, and the sounds that always accompany them. But with the ska a heavy asset in the number, the song will also make you want to dance. Integrating the ska and Arabian elements nicely together, you can't help but wonder if this could be the 'love theme' for Disney's next Aladdin film? 'Butt Down Under" once again shows the band opening up their doors to more musical influences, as this time around they get funky. A ska-funk instrumental, it also has a disco appeal to it. "Someone to Love Me (For My Money)" brings the band back to their up tempo, racy ska selves. Putting their humorous spin on tales of love, they are able to sound serious during some parts, and then spike you back four seconds later with several funny lines. Classic clowns, they'll get you singing and laughing just for the heck of it. Ending with "We Can Still Rock & Roll," they close out the disc with a pop number so familiar with the 80's. A ballad about not growing old and still rockin', this is either a joke at several 'old-time' rock bands making a come back, or a joke that won't reach it's punch line until they grow old themselves. Either that or they wanted to make a statement that they 'can still rock and roll' after their five year hiatus. However you look at it, it reminds me of several slow pop-rock songs throughout the 80's. A very nostalgic close for a band that uses the past as the butt for several of their jokes.

When you don't want to be serious, and just want to be entertained, Gangster Fun is the band for you. Without even trying, their natural ability to write comedy shines through in their music. Whether you're feeling blue, want to have fun, or just want to relax and laugh, let Gangster Fun brighten up your day. I'll give this disc a B+.