South Park
The Complete Second Season (Comedy Central)
By: Alex Steininger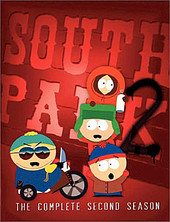 Watch as Kyle, Stan, Cartman, and Kenny, the four South Park boys that have all the answers, or at least enough questions to pretend they have the answers, live life in their small town, South Park, Colorado.

On Comedy Central's South Park: The Complete Second Season, a 3-disc collection, watch as creators Trey Parker and Matt Stone tackle and mock issues such as "Conjoined Twin Myslexia" and "The Mexican Staring Frog of Southern Sri Lanka". Also, hear all of Chef's advice and naughty songs. Plus, watch as sex with chickens is discussed in the brilliant "Chickenlover" episode.

Marvel at how they revel the identity of Cartman's 'father', how the boys handle Ike's bris when they find out what a bris is, a Christmas episode for Charlie Manson, and Cartman thinking he's a Vietnamese prostitute named Ming Li.

Yes, all the cherished memories and classic escapades of season two are here.

What's more, the 3-DVD collection also includes a documentary called "Goin' Down to South Park", the music video for Chef's "Chocolate Salty Balls", and subtitles in French, English, and Spanish. So, almost everyone can enjoy this collection. South Park comes alive here on this 3-DVD set, a flawless look at the second season. I'll give it an A+.