The Man Show
Season One, Volume One (Comedy Central)
By: Alex Steininger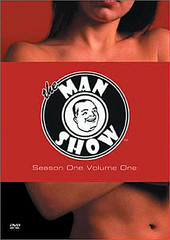 I've stopped watching the Man Show. Once Jimmy Kimmel and Adam Carolla left, I was all but done. However, we can re-live the glory days of the show on Comedy Central's 3-DVD collection, Season One, Volume One.

Here we find Carolla and Kimmel in good spirits, showing us how we, as males, should be: chauvinistic, horny, and drunk. Laugh along with them as the deep topics such as women, sex, alcohol, and fun inventions and toys help enrich the male life.

But, what makes this DVD box set such a value, and a must have for fans of the show, is the bonus material.

Watch as Kimmel teaches his son new lessons in these three never-before-seen clips. Listen in awe as porn stars teach us teach basics of household projects in three more never-before-seen segments. And, more never-before-seen segments of monkeys telling jokes, Karl Malone's advice on investing, taxes, and recycling.

But, that's not it! Also included is "Angelique's Audition", which shows you what juggies must do to get hired. And, no Man Show collection would be complete without "Girls on Trampolines". Watch over five minutes of girls in sundresses on the trampoline.

The clincher: over five minutes of girls in their skimpiest beach attire on the segment entitled "Men Love The Beach".

Ah, yes, classic Man Show, with its creators - Kimmel and Carolla - teaching us life lessons that are priceless. Beautiful. I'll give it an A+.