Malevolence
DVD (Anchor Bay Entertainment)
By: Alex Steininger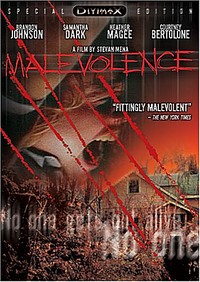 Ten years after the kidnapping of a young boy taken from a swing in his backyard at the age of six by a deranged madman, they never found the boy. Until now, when bank robbers, running from the cops, stumble upon an abandoned house where they become the hunted.

Plain and simple, it's a b-grade horror movie. The writing isn't stellar. The acting isn't awards material. And the plot isn't anything revolutionary.

This all seems negative, right?

Wrong!

Sure, it's nothing original and nothing mind-blowing. But in this cookie-cutter horror approach, the movie finds its market, delivering an entertaining, sensationalized, and at times unbelievable movie that does its job and takes your mind off all others while you're watching, laughing, and, during a few parts, screaming at what you're seeing.

It has its moments. It can be scary and it can also be unintentionally funny. But that subconsciously is its point, and it succeeds. I'll give it a B.