Kevin James
Sweat The Small Stuff (Comedy Central)
By: Alex Steininger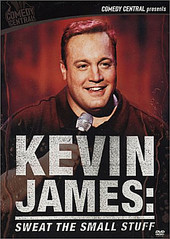 I'll admit it! I really will. OK, so here goes. I am a closet King of Queens fan. I know, I know, cheesy CBS sitcom about an overweight man and a beautiful wife, and their hilarious day-to-day dramas. But, I can't help it. I won't go out of my way to watch it, but I will, if I'm switching through the channels and come across it, stop and watch it.

That's why, when I got Sweat the Small Stuff, the first DVD from stand-up comic turned actor, and star of King of Queens, Kevin James, I was excited.

Cracking a few too many fat jokes at his own expense, he gets the crowd riled up with his New York-centric comedy routine that lasts over an hour.

Also including James' appearance on the Daily Show with Jon Stewart, this DVD finds James' roots as a stand-up comic wildly flourishing, almost to the point you want him to quit his hit TV show and tour the nation.

Until this, this DVD will keep you entertained and filled up on James' jokes. I'll give it an A.