Killer Klowns From Outer Space
DVD [Rated R] (MGM)
By: Randy Harward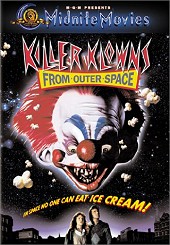 (Now this is a horror film! At least, one that sucks in a good way.)

It's about time the Chiodo Brothers' goofy, disturbing, tale of alien clowns attempting to destroy Earth (by turning the townspeople into cotton candy) was made available beyond rare, hammered, video store VHS copies. It comes thanks to the kind-hearted genius behind MGM's awesome Midnite Movies collection, so let's bow down in collective appreciation.

It's heavy with fun special features (commentary, five behind-the-scenes featurettes, deleted scenes, bloopers, storyboard gallery, photo gallery, trailer, stereo surround sound and French and Spanish subtitles (yyyyyes!).