VARIOUS ARTISTS
Mass Transit (Woodson Lateral)
By: Alex Steininger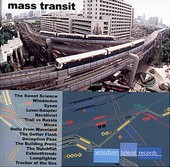 A collection of Seattle's up and coming indie rock, Woodson Lateral's Mass Transit compilation includes The Mines and The Building Process, who both call Woodson Lateral home, as well as non-label bands Trail vs. Russia, The Getter Flash, Deception Pass, and The Dutchflat, to name a few.

From the lo-fi and minimal to stoned and jammy, Mass Transit covers the left field sound of indie-rock in Seattle. It goes against the grain and avoiding the more straight ahead and pop influenced acts to allow the listener to indulge in fifteen songs that will keep the buzz going while playing with your mind a bit. I'll give it a C+.