8 Mile
Music From And Inspired By The Motion Picture (Interscope Records)
By: Alex Steininger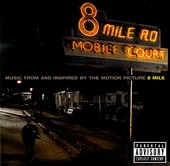 Music from and inspired by the motion picture 8 Mile, Eminem's first movie, it is, not surprisingly, dominated by Emimen produced, written, and performed compositions. While the movie showed the versatile Eminem is quite the actor, at least playing a character not too different from himself, the soundtrack professes Eminem as a visionary, following up his top selling latest full-length, The Eminem Show, and sharing plenty of chart space with it.

Propelled by the soundtrack's theme song, and the lead single off the album, "Lose Yourself", by Eminem, is a mega hit, a flawlessly produced track (by Eminem) that sums up the movie (and Eminem's life) in little over five minutes. Tense and hard-hitting, it builds and builds before exploding in the finale, as Eminem realizes he can't back down now as he stands tall against his big shot.

"8 Mile", another track produced and performed by Eminem, takes the layered, intensity-charged sounds of guitars, keyboards, bass, and drum programming and once again finds Eminem spewing his life story out with vigor as he contemplates his next move, his frustrates, and decides if he even wants to continue. Following the story line of the movie, it portrays the hard-knock life of a star lacking confidence, but overflowing with talent.

"Rabbit Run", based on Eminem's character in the movie, nicknamed Rabbit, continues down the same path as the other Eminem tracks. And though there are only three tracks boosting Eminem's name as the performer, there are a few other tracks on the record written and produced, for other artists, by Eminem. And though these tracks are solid, they struggle to find a voice in the over-saturated rap market, coming off as generic. They lack the style, honesty, and rock fire of Eminem's burning passion unrestrained self expression.

Out of the sixteen songs, three of them, Eminem's cuts, are sure-fire hits. The other thirteen, especially the ones Eminem helps co-write and co-produce, are also good offerings for fans of rap, but they lack the drive and motivation, the personal wars and excreting of demons, that only Eminem's tracks can fully realize. Still, a great soundtrack to a movie that will keep racking in the bucks long after it goes to video. I'll give this a B.