78 RPM's
GO EP (Dill Records)
By: Alex Steininger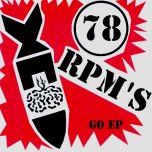 When Skankin' Pickle died, It was only a matter of time before Lars and Lynette bounced back and formed a new band. Bringing in Brent from The Rudiments, as well as a new guy by the name of Adam on the kit, 78 RPM's was formed. After doing a demo tape and then a 7", they have finally released a CD/EP on their very own Dill Records. Mixing in a wee bit of pop-ska, ska-punk, and straight ahead punk rock, they once again propel themselves into the top of the ska-punk world.

Kicking it off with "The Longest Way Home," you immediately get a feel for what they are all about. Starting off with light, quirky guitar work mixed with softly spoken, slightly sang words by Lars, the song soon busts into a jumpy ska beat that will send you whirling right to the dance floor. Once on the dance floor, your feet will instantly move in sync with the not-too-fast, yet not-too-slow upbeat the music heavily accents. With the help of the rhythm section, which adds a lot of muscle to the song, you'll have no problem keeping your energy up as you keep on moving. Some horns make an appearance now and then, adding some nice depth to the background. Mixing punk rock parts into the song, and ending on a punk rock note, the song also gives the rockers a chance to sit back and bounce off walls. Taking the vocals on "21st. Street Bash," Lynette helps lead the band through another bouncy-ska number. Beginning with a slippery hook, the chorus is an infectious piece of work, the kind that once you've heard it you can't get it out of your head. The rest of the number is the same way, bouncy and joyful, and fun to sing along with. Making sure you don't forget their punk rock side, "Burrito Snatcherz" proves the song writing in the band is collective. Brent shows he has a lot to do with this song, if not all, as the number is very reminiscent of The Rudiments. Dark and edgy, it rips through hard-edged punk rock with ease. Led by Brent's growl, fast paced vocals, the number doesn't have the upbeat, fun feeling as the other numbers, which loses a bit of momentum for the band, but the song has no problem mustering energy. Ending with "Got Nothin'," big ska portions mixed with blocks of punk, they are able to end the EP with a lot of fun and smiles.

I like it a lot better when they stay in a ska-punk atmosphere, as this is when they are at their best. But finding a good mix between juicy ska beats and punk rock is hard to do, and they seem to manage it on this album. Welcome back Dill, it finally seems they have something hot in their hands. I'll give this album a B+.