8 Stops 7
In Moderation (Reprise Records)
By: Alex Steininger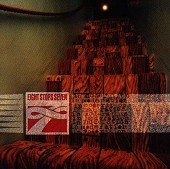 The title of the album sums up the whole modern hard-rock craze: In Moderation. Song titled like "Not Alive," "Regression," "Question Everything," "Uninspired," and "Forget" do a darn good job of summing up this album. Especially the last song on the album, "Forget." After only one listen you'll not only want to forget this disc, but will.

Crunchy riffs, tight production, and oh-so-emotional vocals decorate the radio these days and 8 Stops 7 is no exception. Nothing new, nothing old, and nothing that has anything to offer to the world of music; I'll give it a D.