Goldenboy
Blue Swan Orchestra (B-Girl Records)
By: Alex Steininger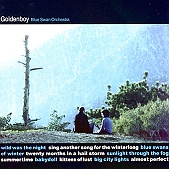 Los Angeles' Goldenboy has delivered one of the year's best records with their debut, Blue Swan Orchestra, an astonishingly beautiful work of art, one that is too good for a debut. But, when you examine who is in the band, it starts to make sense.

Fronted by singer/songwriter/multi-instrumentalist Shon Sullivan (who was a member of Spain and has played with Elliott Smith and Neil Finn), Sullivan's songs come to life with the help of two friends. Drummer Bryan Bos and accomplished musician/engineer/producer/label executive David McConnell (McConnell's label, B-Girl Records, released this record and he also recorded and produced the majority of tracks on the album), all questions as to how a debut is this good are erased.

Elliott Smith adds backing vocals on "Summertime", a song that has more in common with fall than summer. Though it is warm and bright, the relaxed, breezy vocals and rustic melodies hint at fall, just as summer slips away, and the leaves start to fall off the trees and kids go back to school. The song also has a reminiscing vibe to it. When Sullivan sings "It's nearly winter here," you think back to the fun you had in the summer, and how the fall came along and stole the sun and warmth from you.

"Sing Another Song for the Winterlong" finds Sullivan and company delivering a bouncy, free-flowing pop song that chimes with an organ that glows in the background, while the drums steadily keep the beat, the guitar strummed as it leads the way. Some lead guitar riffs fill things out, as the bass adds the thump that gives the song a boom to really hit you. And, Sullivan's voice is equal parts nostalgic and optimistic, as he gives you a story to wrap yourself up in like a blanket.

"Twenty Months In A Hail Storm" simmers, a slow, brewing pop song that sweeps by you time and time again with gentleness that is both soothing and befriending. Then there are songs like "Wild Was The Night," the album opener, which show you Goldenboy knows how to rock. The jilting rhythm section making you tap your feet while Sullivan's voice and guitar ease you into a relaxed state of mind, the distorted guitar track layered on top sending chills down your spine, and adding another dimension to this well-crafted pop piece. And the organ, rustling in the background, soon crashes down on you like a wave, bringing you in with the tide and cooling you off as you swim in it.

McConnell gets a chance to sing on "Kittens Of Lust" and "Almost Perfect". The latter an acoustic song that remains just guitar, voice, and chamberlin for the first half and then the drums and bass enter, taking the slumbering song further into your subconscious as it gives you a sense of security and peacefulness.

A truly mesmerizing album, Sullivan, Bos, and McConnell have created a monster in Goldenboy. A warm, affectionate pop band that writes sensitive, heartfelt lyrics and knows how to bring you in and out of their world as the songs revolve around your head and make you feel like you're in a state of euphoria. I'll give this an A+.