Goldfinger
Darrin's Coconut Ass - Live From Omaha (Mojo Records)
By: Alex Steininger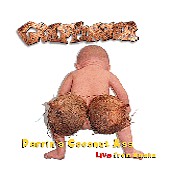 Those crazy pop-punk-ska kids in Goldfinger dish out yet another infectious bite of zany music on their latest, DARRIN'S COCONUT ASS, a live (recorded in the studio straight to DAT) album from Omaha. Who would have guessed, eh? Covering songs from The Cure, The Who, Peter Tosh, The Police, and four more artists, make this a definite keeper for any fan of pop-punk or Goldfinger.

The Cure's "Just Live Heaven" never sounded punker. John Feldmann's popster vocals with a slight English accent help propel the gigantic pop hooks and thundering rhythm section. "Is She Really Going Out With Him?" by Joe Jackson is a classic and Goldfinger manages to dish out an ample version full of tasty pop, lots of emotion, and tremendous power (especially since it was recorded at 3am!). The Who's classic "The Kids Are Alright" gets you dancing with a ska-induced beat. Then the Police's "Man In The Suitcase" keeps you dancing with its quirky pop hooks and burning hot ska beats.

Normally cover albums just don't cut it. You're either a fan of the band that originally did the song, in which case the cover version just doesn't make par. Or, you've never heard the song before, so it seems like an original and feels weird, because you know it's not. But, Goldfinger overcomes both challenges, giving you a huge smile with bulls-eye pop-punk that has you singing and dancing from beginning to end. This band isn't down for the count, though their lack of releases in a while may have some thinking those thoughts. The bell just rang. Time for round three. I'll give this a B+.