Golden Smog
Weird Tales (Rykodisc USA)
By: Alex Steininger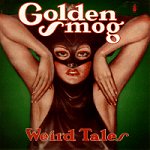 Taking all the aspects of the music they love, then blending it into a collective sound, Golden Smog hits the jackpot with their second full-length, WEIRD TALES. The line-up includes: Kraig Johnson (Run Westy Run), Gary Louris (The Jayhawks), Dan Murphy (Soul Asylum), Marc Perlman (The Jayhawks), Jody Stephens (Big Star) and Jeff Tweedy (Wilco).

Their sound can be described as a cross between power-pop, rock n' roll, country, folk, and memories that keep you going (whether pleasant or tormenting). With fifteen Smog originals, this 'super-group' has no problem creating an enjoyable atmosphere in a fifty-five minute time span.

Like any album of its caliber, no time is wasted in getting into the goods. "To Call My Own" is not only a brilliant way to start this disc, but also ranks up there as one of the top three tracks on the album. A soft, laid-back pop folk number, the vocals gently flow through lyrics that tingle and tap inside your head. Striking up memories abroad (as much of this CD will), each word is clearly annunciated and easily understood. Packing so much power in a carefully wrapped, delicate package, the song will leave you numb with excitement.

Starting out with an old R&B feel, "Until You Came Along" soon turns into a country number that is lined with ample amounts of pop. Just as enticing as the opener, you'll pleasantly find the hooks to be brighter and more uplifting here. As each verse passes, the chorus brings you deeper and deeper into the song. The first chorus will hit and you won't be able to stop singing, then the second one hits and you want to get up and move. The songs easy-going, friendly feel just warms on you until you feel like it is part of you.

Opening with what has to be the most basic, but revealing line on the whole disc, "If I Only Had A Car" instantly sets itself up as a song that can be portrayed as a song that dwells on the current outcome, as well as one that revels in it. "If I only had a car, I wouldn't be here in this bar trying to get to you," sums up all the doubt and luck that seem to encompass the current state of Kraig's vocals. A pop ballad with all the trimmings -- piano, violin, and 12 string acoustic guitar -- as the vocals prey on your feelings, you'll find yourself starring at the walls trying to absorb every ounce of emotions that pour out of the song. Heart-warming and heart wrenching at the same time, the songwriting craft that went into making this beautiful piece of music is remarkable. Enter into it smoothly, but once in, never look back.

Another one of the premiere tracks on this disc, "Reflections On Me" is a folk rocker that carries on the high levels of emotions found on this album, while also keeping in touch with the very melodic, easy-going tone of the disc. Gentle and smooth, it still packs quite a punch through the soft vocals and raindrop piano parts that float through the song. The mid-tempo pace of the drums help back up the rock heart, while the guitars stay in touch with the folk and pop blood that makes the song so lively.

Showing another side of the band, "Please Tell My Brother" is a simplistic, acoustic guitar and vocal only track. Jeff Tweedy truly shines on this 'solo' track. His voice is sweet and sincere, making sure no word goes without making an impact on the listener. And with his guitar, the country tingle burns through your body with a soft, innocent feel. Nothing short of heart-warming, after hearing this track you'll want to call up your family and tell them how much you love them, too.

All the hype and praise surrounding the band is well deserved. They're on the mark with their second full-length. Each flaw works in their favor, helping to make the album even more friendly and inviting. But who's to say what a flaw is, anyhow? It just might be as flawless as they come. Truly inspirational, this album is uplifting and enjoyable. Cozy up to a fire and start the evening off right. I'll give this disc an A+.