Mellow
Another Mellow Spring (Cyberoctave)
By: Alex Steininger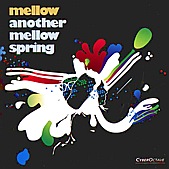 Gloriously poppy, with an electronic glow, Mellow's Another Mellow Spring is a captivating work of art. Like a bright spring day, flowers abloom, and children outside running around gleefully, Mellow creates pop songs that are picturesque, picturesque of the American Dream, a care-free, joyous world where your worries are few, your fun level is high, and life is an endless delight. As you live in the fields Mellow creates, you think about nothing other than happiness and peace, living with a smile, and never having to think twice about why you feel so good. It is a drug, a drug that won't harm you, but will give you the ultimate high.

Rich with melodies and a variety of instrumentation, creating thick layers of delightful pop, Mellow's brand of music is heavenly from start to finish. I'll give this an A+.