Kyle Fischer
Open Ground (Polyvinyl)
By: Alex Steininger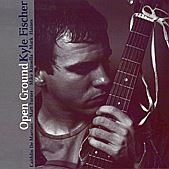 There are very few things that bother me about solo albums. I believe artists should have every outlet possible to express themselves. If you're in a punk band and want to write a solo acoustic or sugary, 60's pop record, go solo. If you're best known as a member of a pop band and want to do some hard rock, create a side project. By all means, express your musical visions the best way you can.

However, if you're the main songwriter for an indie-pop band and want to go write an indie pop record, it better not be a carbon copy of your band's records or else be ready to explain yourself.

The latter is the case with Rainer Maria's principal songwriter, Kyle Fischer, who's solo album, Open Ground finds him treading in the same waters as Rainer Maria, if only more introspective and lo-fi lush.

I can understand Fischer's need for a solo album. He is the main songwriter for critically acclaimed Rainer Maria, but not the lead singer. Caithlin De Marrais has the honors of fronting Rainer Maria with her emotionally gripping, heartstring pulling voice. A quick look at the credits though finds Caithlin credited as the lead vocalist on three songs (the third a brief song under 1 minute).

With the current state of the music industry and music fans more fickle than ever, there is no question why Fischer choose to add his band mate to the record - sales. No artist wants to stake out on a solo career only to find he/she is only known as a member of a certain band or that all fans want to hear is said band.

It has happened many times, artist fronts successful band, band no longer gets along (not saying that is the case here) or finds it is time to move on, and moves on. After failing as a solo artist, artist grasps for air, realizing they need to either front a new band to get fans excited or regroup the old band. Heck, it's happened to the best of them, with only one out of every ten successfully pulling off the solo career.

Can you blame Kyle? Not really, he knows what it takes to succeed. Then again, you can blame him, because after one listen to Open Ground you wonder to yourself, "Why would a musician of this talent doubt himself?"

Where Rainer Maria could go soft, but still maintained a rock edge, Open Ground is all singer-songwriter pop, complete with weepy acoustic guitars, seemingly autobiographical lyrics, and the much-needed strings (cello here) to really tug at your heart and make those tears trickle down.

I'll admit it, Caithlin's tracks sound damn good, too, like the best Rainer Maria songs that never made it on the album. Still, the fact that Fischer is Rainer Maria's main songwriter, and Caithlin is the main vocalist, makes me feel like I'm listening to Rainer Maria at times. And when I'm listening to solo albums, I don't want to feel like I'm listening to the band the member is in, or else I would put in the band's record.

To further aggravate, Fischer includes the Caithlin penned "Too Soon To Know", in which she sings lead. Can we say "save it for Caithlin's solo album or call this a Rainer Maria album"?

Songs like "Headphones", with its raindrop percussion, softly sang vocals, and vulnerable lyrics, not to mention the beautiful cello that flushes out the song and brings it to life, make you forget all the aggravating facts of the album. They make you want to cuddle up with it and enjoy every last breath of the music.

"Should Your Way Ever Need Finding Back" and "Christopher Isherwood" are two more compelling reasons to enjoy this album, with their Mike Kinsella-esque (who plays drums on the majority of the tracks) dark singer-songwriter indie-pop.

Fischer has created a great indie-pop record. Despite its drawbacks, it is a fine collection of whispery, late night coffee-drinking slumbering songs sure to find more than ample time in your CD player. I'll give it a B+.