The Stunt Man
DVD (Anchor Bay Entertainment)
By: Randy Harward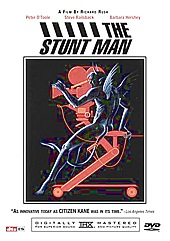 Richard Rush's Oscar?-nominated story of a Vietnam vet pressed into service as a stunt man in Eli Cross' (Peter O'Toole) WWI film is the sort of film of which few are able to divine its appeal. That said, I'll explain that its charm lies in the successful blend of elements comedic, dramatic, and suspenseful, with a underlying literate theme.

The Stunt Man is presented in widescreen format with commentary from Rush, stars O'Toole, Steve Railsback, Barbara Hershey, Alex Rocco, Sharon Farrell and Chuck Bail. Other extras include trailers, deleted scenes, original production and advertising art, still galleries, and, for those with DVD-ROM drives, the screenplay and director's notes.