RAIL
Big World (Art Records)
By: Alex Steininger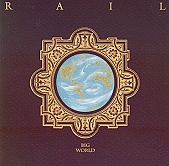 Before Nirvana, Seattle had RAIL, an early 80's arena rock band, delivering classic cock-rock with guitar solos and plenty of a crash-boom-bang from the rhythm section. Releasing two records, Arrival and Adio, the band scored an MTV hit ("Hello"), and earned plenty of fans. Though the band served up a few near ballad-esque numbers on their two albums, they mostly offered up good time, party rock at its loudest and most fun. Their newest record, released in 1997 (the band has since re-released their two previous records), shows the softer side of the band. RAIL reaches out to offer up power ballads, the ones that made a huge impact in the mid-late 80's, and the ones that you wished would just go away.

RAIL are serious musicians who can play their instruments, but their specialty rested in their ability to crank out loud, obnoxious songs that got stuck in your head and made you want to do everything and anything you could to have fun. The ballads, however, like other hard rock bands of their time, fall flat on the face, as musicians try to capture your soul (and wallet), rather than offer you up a good time.

When RAIL cranks out songs like "Hello" or "1-2-3-4 (Rock 'N' Roll), they're offering up songs that are fun. When they deliver the power ballads, they just don't live up to the legacy of the rock they once played with so much flare. I'll give this a C-.