RAIL
Arrival (Dynasty Records)
By: Alex Steininger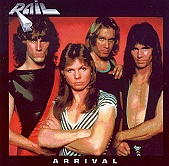 Rail, the Northwest's 80's cock-rock, heavy ballad offering, arena smash hit hair band (best known for the front man's white fur boots), has re-released their classic 1980 debut. For the first time on CD, Arrival also includes bonus CD features, including music videos and interviews.

As the band says on the album opener, "Hello", "Hello all you people, hope you're feeling good. We're gonna give you a show, like you know we would." And a show is what the band gives you. From the MTV hit of "Hello" through fifteen more hard rocking delights, Rail brings back the classic rock of the 80's, including big hair, bad style, and lots of guitar-driven, wailing rock numbers that put today's rock to shame. Guitar solos, excellent musicianship, and a lot of fun, Rail may come off as a joke, though they're serious about having a good time, and after a few listens you'll get past the dated-ness of the album and have a lot of fun, too.

If the band's "Hello" was their opener (as it usually was in their live shows), than "1-2-3-4 (Rock 'N' Roll)", off of their sophomore album, Adio, is either the show closer or the encore opener. After all, "what are we working for? Rock 'N' Roll!" I'll give this a B.