Railroad Earth
Bird in a House (Sugar Hill Records)
By: Alex Steininger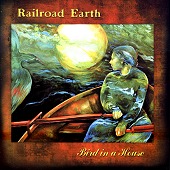 As rock 'n' roll as Bluegrass gets without losing the bluegrass in the sound, Sugar Hill's Railroad Earth create one of the year's best bluegrass records on Bird in a House, their sophomore release.

Leaps and bounds over their debut, The Black Bear Sessions, a powerful debut in every sense of the word, and a fine record in its own right, Bird in a House continues where The Black Bear Sessions left off.

Whereas the The Black Bear Sessions was originally recorded as a demo and never intended for release, Bird in a House is Railroad Earth's real debut, the record that will make them a namesake in the Bluegrass community.

Well produced, you can tell the band spent time on it. But, like The Black Bear Sessions, which comes to life with its spontaneity, sounding like a band that just went into the studio, hit record, and did what they did best, Bird in a House retains the characteristics of a band doing it live. Only, this time around they up the ante and make sure that every little thing they're doing can be heard.

From the steamy romp of "Drag Him Down", through the percussive "Mountain Time", and the frolicking "Peace on Earth", complete with stunning harmonies and a great sense of melody, this is one innovating bluegrass outfit. One that isn't content rehashing Bill Monroe and The Osborne Brothers.

Instead, they take bluegrass by storm, much like artists like Kris Kristofferson and Johnny Cash did to country. Building upon the timeless sound and giving it their own spin, refreshing the genre and having a good time in the process. I'll give this an A.