The Go-Nuts
The World's Greatest Super Hero Snak Rock And Gorilla Entertainment Revue (Planet Pimp Records)
By: Gary "Pig" Gold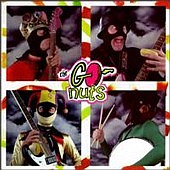 Possibly the finest musical export Hollywood has unleashed since Kim Fowley, the artists formally known as the Donut Prince, Kaptain Korn Nut, Donut Hole and Korn Dog return from lunch with their first full-length offering of sugar-coated odes to all things so bad that they're good for you.

Not only does this album contain a dance craze ("Do The Chomp"), some fast-food folk ("The Bad Apple") and even a slice of rock opera ("Snakless Sonata"), you can even dine 'n' dip to not one, but - Count 'em! - FOUR renditions of the timeless "Go Nuts Theme". But That Ain't All! The long-lost Ramones and Dickies get musically into a plastic fork fight, Los Straitjackets plead the Twinkie defense, and a great lost Dr. Bob's Nightmare all help round out this fun-filled frolic in song that deserves to follow your very next big meal, sonic or otherwise.

Cartoon Rock at its waist-bulging, tooth-decaying finest, The Go Nuts have once again proven the fittest amongst us out-to-dinner by producing a work of timeless art with a capital "F". Dig In!