The Go-Nuts
"Skinny Bones Jones" b/w "Eat It All" [7" single] (Planet Pimp Records)
By: Gary Pig Gold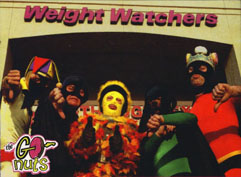 It's one thing to write a song; another still to pick up a guitar, throw together a band and actually venture out to play the damn thing. But few and very far between are the ingenious souls who, in the process of all the above, actually wind up honest-to-goodlessly CREATING THEIR VERY OWN GENRE, don'tcha know.

Well friends, allow me to introduce you to, uhh, Kaptain Korn Nut, The Donut Hole, Korn Dog and the Go-Nut formerly known as The Donut Prince who, alongside their long-suffering Hi Fat manager and a buxom bevy of Go-Go Gorillas (sorta a Nineties Ikettes, I guess), use the time-trusted medium of the vinyl 45 with which to foist upon an unsuspecting world not one, but two examples of the sound soon to be sweeping rap 'n' alt outta the air forever (one can only pray).

I speak of a sound so politically and demographically dead-on that it'll only be a matter of time now, I boldly predict, before every major label in the world - yes, all three of them - are banging down the Go-Nuts' door with ironclad, lifelong contracts in hand. (Don't believe me? Well, I was right about Butterscott) (sort of). Why not beat the rush then? Be first on your floor, etc. etc.?