Go-Rin-No-Sho
Inner Light (Troupe Records)
By: Gavin Lafcadio McKiernan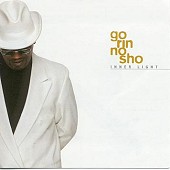 "Remember Alfalfa how he slept on Buckwheat?" stands out as my favorite line in a lyrically strong first release from Go-Rin-No-Sho. The album is called Inner Light on Troupe records. This is an unusual rap album in its attempts at being positive. This is a good album, however, much like the victims in his raps, this album, for all its hopes, doesn't quite reach its potential. With his lyrical ability Go-Rin-No-Sho should be around for a while.

Go-Rin-No-Sho tells about the "it's me or you attitude" of his hometown, Brooklyn, that we have heard about so often before. But he doesn't paint it in the flashy shoot-em, "I'm a gonna get mine" of most rap artists. Go-Rin-No-Sho tries to point out the problems in the city. Inner Light would be more thought provoking, and probably a better album, if he didn't stop there and instead used his lyrical talent to point out ways for people to avoid the wrong path rather than just preaching to people who feel they have no choice.

He begins the preaching with the first track "Hand of God" one of the better tracks, where Go-Rin-No-Sho tells us that he is "taking control, saving souls, on the boulevard." He quotes scripture and exhorts his listeners to be true to their morals and walk with the hand of God. Go-Rin-No-Sho's best work is definitely on track #3, "The Game." This track has a solid beat and an infectious female backup vocal which is reminiscent of what LL used to keep you hummin, "Mama Said Knock You Out." Go-Rin-No-Sho's lyrical style is best when he is driving his lyrics at you "sharper than a razorblade" like in the "The Game." This track tells us of various victims of the game and lets us know what we all missed out on by losing these people. On the tracks, like "Twilight Zone," where he slows down his flow, he is not as effective. Overall, the production values are great and the beats generally make your head bob. The beats, however, are simple and far from innovative, using basic drum tracks, with a numerous back up vocals. The back up vocals are a detriment to tracks "Feel the Rhythm" and "Tales from the Crypt'" bringing down what are otherwise excellent verses. "Tales of the Crypt" has good rhymes, but the chorus features a Vincent Price wanna be, reminiscent of Thriller.

Go-Rin-No-Sho usually tells stories with his lyrics which is a refreshing change from the many rappers who exist only to boast of the most ho they hit, or rival they shot. Many new rappers rely on good beats to hide their lack of rhyming ability, but Go-Rin-No-Sho's strength is in his rhymes and his voice - talents many rappers do not have and never will. I look forward to his next release and recommend picking up Inner Light if you are interested in a message with your music.