Sunny Day Real Estate
The Rising Tide (Time Bomb Recordings)
By: Alex Steininger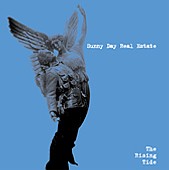 Proprietors of emo are back with another full-length, The Rising Tide, an album that finds them back into the heartland of emo while emo seems to be all the rage. But as the other emo bands do the same thing over and over again, re-creating what SDRE did a long time ago, the real thing, SDRE, deliver a fantastic, beautifully created album worthy of their name.

Sweet, emotional vocals wrapped around soft, delicate melodies, strong lyrics, and bold sounds that swim around the calm beats, SDRE make emo worth it again. I shouldn't even being call them emo. This is rock 'n' roll that hasn't been corrupted. Rock 'n' roll that has something to say, is fun, beautiful, and is all about feelings and emotions. Poppy and catchy, just as it is dynamic and hot, SDRE captures your attention without even trying. That is talent. I'll give it an A.