Sunny Day Real Estate
How It Feels To Be Something On (Sub Pop Records)
By: Alex Steininger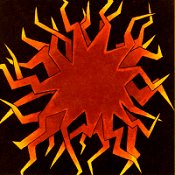 Long an underground favorite, it seems that after their demise in March of 1995 their legendary status leaped to the top of the indie-rock world. Gradually growing, fans were aching for a reunion tour. But, a reunion wasn't fully into the picture until the band was approached to do a "Odds & Sods" compilation featuring rare, unreleased, and b-side material to tie up loose ends left by the band's original break-up.

Wanting to include four new tracks on the "Odds & Sods" compilation, practices began going so well, that they decided to write and record an entire new album together. HOW IT FEELS TO BE SOMETHING ON is the outcome of that recording section. Some new fans will be born, some old fans pleasantly surprised, and a few fans will scoff at the decision. But, is all the hype worth the final product?

If you're looking for DIARY again, probably not. However, if you're looking for their trademark, emotional pull that will have you feeling every word and living every beat, then you're probably going to enjoy this album.

Showing no signs of rust, only signs of musical maturity through each individual, "Pillars" starts off the Sunny Day Real Estate evolution with some crisp, sincere, and heart-pulling emotions. Jeremy's vocals are as passionate as ever, while the dual guitar work of Dan and Jeremy is soft yet tangy. William Goldsmith does an amazing job on the kit, easily keeping the song light, but always making his presence known. Then there is the new guy, Jeff Palmer, on bass. Stern enough to clock everything together, but sleepy enough to not over power the music, his muscles are flexed but guarded.

If there were any questions about Sunny Day being able to make a comeback, "Pillars" answered them. The band isn't the same, and it's very evident. They've grown up (for better or worse), and are able to fully realize the impact their music has on people's thoughts. With this in mind, they don't hold back the punches and let it all flow. "Two Promises" possess a constant quirky guitar riff that draws you in, while Jeremy's vocals bring you even closer. Sweet crafted hooks help carry out the tune, giving it a hand to hold you with. Firmly in its grip, the song maintains an interesting level to keep you listening. Punching back with hooks here and there, the song touches the edges of a stale nature, but quickly realizes it and jumps right back into the goods.

"Guitar and Video Games" and "The Shark's Own Private Fuck" tie for 'best song title.' Each song is similar in structure, and brings up familiar, related emotions. Very easy going and soft flowing, except for the drums, which add a pulsating heart beat to the music, the songs slowly walk past you as they help you draw upon emotions and recall similar experiences. Possessing a very captivating voice, Jeremy is once again able to make you feel deeply inside yourself (even when you aren't quite sure what he is saying).

Tight and full of life, Sunny Day Real Estate's second-coming may be their brightest. If they can re-capture live shows of the past (word-of-mouth puts them at the top of the 'best live act' list), and reach even further into their musical collective, then they might just find themselves standing on top of their legend. And HOW IT FEELS TO BE SOMETHING ON is a good start. I'll give it a B+.