Pele
The Nudes (Polyvinyl Records)
By: Alex Steininger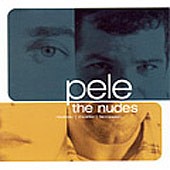 Guitars drip like rain off of a leave onto the soft, moist ground. Drums bounce like a cheery kid on the walk to his first day of school. And the bass calmly, but boldly, stamps its mark on the songs with a force. This is the outline of a Pele song. They're not afraid to rock, but they prefer to keep it down so you can feel what they're feeling in every note. Still, they find time to rock and move you.

Did I mention the CD is completely instrumental? Normally I don't dig instrumental rock albums, but hey, these guys do it well and make it worth listening too. The music is delicate and fierce, a hard combination to capture. It's got heart and an edge. I'll give it a B.