Pelican
Australasia (Hydra Head Records)
By: Paul Hullabaloo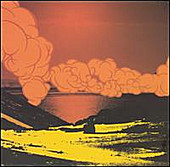 Australasia, the 2003 debut LP from furious riff-metal masters Pelican is an amazingly composed machine of momentous melodic assault. This is the destructively elemental sound of slowly shifting landmasses, of the bowels of Earth's furnace churning sick madness up from the blood fires of its molten center.

Pelican masterfully composes carefully constructed stoner rock landscapes with real cinematic sensibilities, creating lush melodically rhythmic sounds that resonate a sense of sonic imagery. The music illustrates the thunder vacuum of metric ton industrial God Machines breaking the land, leaving an overturned wake of raw havoc and unforgiving annihilation.

This LP contains some of the most impressive contemporary progressive riff variations I've heard, laying down a massive, symphonic thrust of low-end time signature prowess, with engineering and production wrought with heaving depth and dimensional duality. At times, Australasia is a punishing, steel fisted attack and at times it carefully retreats into nuanced, minor chord acoustic shading. There is even some textured use of Theremin present, eerily underscoring the waves of dual guitar violence.

There is no singer or lyrical content present on this LP, however an array of breathy, high pitched and brightly separated symbols act as a form of ethereal vocalization, communicating in whispery, stretched languages. This is a long album, maybe a little too long; it is six songs, one full hour of focused material. The length may feel a bit self indulgent, but, with this display of compositional confidence, it is difficult to fault Pelican for choosing to open it up and elaborate. Australasia is meant to be ingested as a whole, uninterrupted; it is a mood piece and works if you are willing to interface with a symbiotic mindset. Anyone into Sabbath, Kyuss or even Monster Magnet should check this album out. I don't know about you, but any band that willingly refers to themselves in their liner notes as 'Sorcerers' gets my fucking vote. I will wave that flag, no questions asked. Australasia is definitely an important underground watermark for riff-metal rock music.