The Go-Betweens
The Friends of Rachel Worth (Jetset Records)
By: Alex Steininger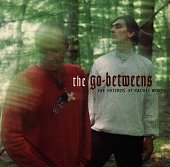 The Go-Betweens first record in twelve years is a captivating, stunning mixture of pop perfection and sharp rock 'n' roll beats. The songs are well-crafted, delivering hook after hook with sweet vocals swimming around every melody. Guest appearances by Sleater-Kinney/Quasi drummer Janet Weiss and Quasi frontman Sam Coomes help round out the songs even more, giving them an indie rock touch amidst the European pop bliss that underlines each song.

The word brilliant shouldn't be used lightly. However, The Go-Betweens deserve that and so much more. This album delivers on the twelve-year wait, giving fans everything they want and more. It is sure to bring in plenty of new fans as well. Tight, melodic pop with both jagged and glorious edges, this is indie pop enough rock 'n' roll to keep it from going dull. I'll give it an A+.