The Agents
<401> (Radical Records)
By: Alex Steininger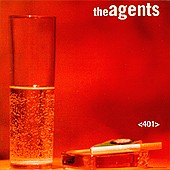 Ska-OI! that will have you drinking, partying, and wasting the night away, The Agents are rocking ska who don't toy around with ska-core shit. They go straight for the real stuff. Skinhead ska that will knock you up along side the head, these people will find you drinking heavily at the bar, skanking to the sounds of their music on the dance floor, or up on stage with them.

If you want some ska that isn't gummed up by back punk bands who want to be ska, than The Agents will help you keep the party going all night long. Sweet horns, fiery upbeats, and plenty of rhythm to feel, <401> will be the music you turn to when you want some Ska and OI! I'll give it a B+.