The Agents
For All The Massive (Radical Records)
By: Alex Steininger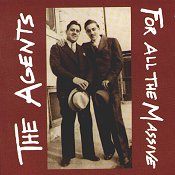 A blend of traditional ska, reggae, surf, swing, and soul, The Agents showcase their various musical influences from the past in a modern day mix that will have you dancing around in excitement. On their debut full-length, the band takes traditional ska and stirs things up a bit.

Wasting no time getting you dancing, "Superhero" packs a bouncy upbeat that will find your feet in full compliance. Once they jump in, the vocals seem to take the song from the bouncy ska number it is and turn it into a traditional number with an older groove going for it. This doesn't go over well at first, but using the first few seconds to warm up, the sound will soon grow on you. And once this has happened, you best not look back.

Keeping you dancing, while expanding on the infectious feel of the music, "Gratidao" works with some nicely formed pop hooks to really drive the song into your mind. It starts off like any other song, horns blaring and the guitar swaggering through with a nice upbeat, but once the verse hits you you'll take notice. Quickly jarring, it commands your attention (and gets it with ease). The only annoying part of the song is when the lead vocals try to imitate a female's vocals. Other than that, this song is one you can be proud of dancing and singing along with.

"Two Men Gone" brings a wee bit of soul into the vocals. Not a lot, though, but there's enough to give the song a different edge. Mixed with the dark horns and heavier feel of the song, they're able to go for your heart rather than your feet this time around. Not as infectious or as bouncy as some of their other numbers, you may be quick to write it off as a dud. Surprisingly, though, they make it work with the thick, dark horns. When they slowly leak into the song, everything is turned upside down.

Showing their surf side a little more, "Fall River" is an instrumental trad-ska number with a tingly surf riff tossed in a few spots. Jazzy horns flutter throughout the song, giving it all its vitality, while the rhythm section keeps a nice groove alive. A bit less aggressive than on past tracks, the upbeat doesn't show its face as much as it likes, but it still has a hand in keeping your feet going. After listening to this number a bit, I might even add that I like it better than some of their vocal tracks. They just seem to have a more cohesive sound when the vocals aren't present, which makes the music that much more appealing. Probably one of their most straight forward, brightest numbers, this will easily become a favorite of yours, too.

Closing out with a number for their past drummer who "reaped more than he sowed for the band," "Fatty" finishes the disc with its weakest number. The vocals don't seem to fit with the music, and the merge between traditional ska and swing just seems a bit forced, giving you an uneasy feeling while you're listening. Eleven out of twelve isn't bad, though.

For a debut, they seem to have a nice vision of where they want to go and how to get there. A few spots show a less than perfect band growing into their own, but for the most part they work nicely as a team. I'll give this disc a B.