INTERVIEW: Written In Ashes
Goth-Rock Frontman Kevyn Hay Speaks
By: Sonya Brown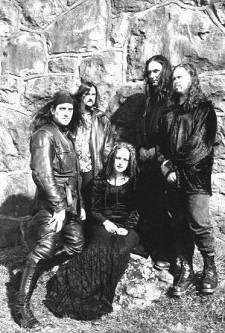 Written In Ashes' latest CD release, "Epiphany", will embark them on an upcoming tour beginning in October. To coincide with this tour, vocalist Kevyn Hay answers a few questions about Written In Ashes, and the new CD "Epiphany".

Sonya: Written In Ashes is often described as "goth rock". Do you feel this is an accurate description of your music?

Kevyn: Personally, I've been struggling my whole life to help dissuade people from using labels, and categorizing _everything_. Some people use the term "goth" as if it were a dirty, vile word. A similar phenomenon happened with the word "punk", and now that's all the rage, again. I can understand the view point of trying to describe a certain look, lifestyle, or music, but why can't people just say, "hey I saw this really great fucking band last night" or "I heard these guys rock, lets go see them". I mean, I don't care what you look like, how you dress, whatever, _everyone_ is welcome at our shows. So, Written In Ashes goth rock? We enjoy the "gothic" lifestyle, and we rock...

Sonya: Who makes up the current Written In Ashes line-up?

Kevyn: Mr Battrick drums, Michael Draper bass guitar, Fritter keys & percussion, Pete Guzzardi lead guitar, Christopher Robin keys & electronic percussion, Kevyn vox & rhythm guitar, Mark Blewett sound engineer.

Sonya: How do you feel the newer band members interact with the more established band members?

Kevyn: At this point in time, I believe our line-up is the strongest its ever been. Its kind of incestuous, by that I mean everyone in the band right now has more or less known, or has worked with each other before. So it's not like a bunch of strangers getting together and trying to get a feel for what's going on. Pete was in Monochrome with Mr B, Chris worked with Pete for awhile after Nefarium, Chris use to come to all our shows, so the pieces fell into all the right places.

Sonya: What different directions has the new line-up taken Written In Ashes?

Kevyn: With Pete on lead guitar, its really brought that harder edge the band had been lacking. And Christopher is a master of ambient and techno sound scapes, which is a direction Written In Ashes will begin to explore in the future.

Sonya: When and where will your new full length CD, "Epiphany", be available?

Kevyn: Epiphany will be available from distributors such as Metropolis (North America), NightBreed Recordings (UK), Projekt Darkwave (on-line), and Locals On-Line (on line). Epiphany will also be available through our web site, and at shows.

Sonya: Tell me about the supporting tour for Epiphany. Where do you plan to tour and when?

Kevyn: As of today, I'm still finalizing a few dates, however we'll be on the road September 30th through October 15th . Primarily we'll be covering most of the western states, Utah, Colorado, New Mexico, Arizona, Nevada and California. Six guys (Fritter unfortunately won't be able to join us) in an RV driving to hell and back!

Sonya: At the Written In Ashes website (www.writteninashes.com), you mention the philosophy behind Written In Ashes. This philosophy states that Written In Ashes has "influenced individuals to explore their true selves". The cd title "Epiphany" seems to directly relate to this philosophy. Can you tell me other ways that this cd relates to the philosophy behind Written In Ashes?

Kevyn: Discovering yourself is an epiphany. Its that moment when your eyes are finally open, and you realize who you are, and feel comfortable and confident with it. That 'true self' lurks within us all. Some have released 'it', others still suppress 'it' in fear of what 'it' might actually be, and a great many individuals have no idea 'it' is even there, waiting, lurking, wanting to be released into the world. Countless numbers of individuals hide behind this facade of forced reality, a place where they feel the world thinks they should be, or place where they feel safe. Epiphany is about breaking barriers and tearing down walls, succumbing to the true self, the nature of being.

Sonya: How did you decide on the name "Epiphany"?

Kevyn: Epiphany was a sudden realization of what Written In Ashes was all about. We've been working this trio of releases angle that started with "Eternal" (forever), followed by "Eclipse" (to obscure) and concluding in an "Epiphany" (a realization). Written In Ashes has been a DIY band from the beginning, and until very recently, every aspect of what we do has been done by the band. Management, promotions, artwork, recording, producing, everything has been a concerted effort by each member of Written In Ashes. And now we're realizing, after over three years, its starting to pay off.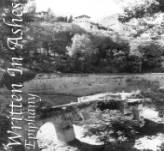 Sonya: Who did the design for the Epiphany cover artwork?
Kevyn: The cover artwork is actually a collage of photographs Michael took while in Spain last year. Michael took all the photographs that are incorporated into the entire package, with the exception of the 'angel girl'. Our friend Marshal Serna from Sumerland took that picture (used w/ permission of course!). Michael is a graphic designer, and is responsible for the entire layout of the CD! He also designed and printed our t-shirts and stickers. I might be biased, but Michael did a most excellent job!
Sonya: What is your favorite song to perform live (and why)?
Kevyn: My favorite song to perform live? Performing is not about me, it's about the audience, and how they react. Different people react differently to different songs. For me, whenever Written In Ashes can cause a reaction, when a song moves someone to get up and dance, or even stand there and sway, that's my favorite song. Some nights, it's everything we play, other nights there might be a couple of tunes that stir things up. If I had to choose, it would "Please" or "Inside of You'" Both of those songs are emotional for me, and I try to translate it to the audience, see if they feel the same thing I feel, see if we 'reach'.
Sonya: Epiphany is an extremely diverse cd, and some of the tracks are quite unusual (The track Sinners, for example). What was the process involved in deciding which tracks would appear on Epiphany?
Kevyn: Deciding which songs to include on Epiphany was interesting to say the least. Some songs Written In Ashes has been playing live since just after "Eternal" was released. Songs like "Wash Away", "Please" and even "Corners" were supposed to be on a full length version of Eclipse, however, there were some changes in personal and it really killed that project. The majority of the tracks on Epiphany were written after that, and played live for over a year prior to recording the album. "Sinners" was a _completely_ different song altogether. It was a guitar song that did not translate well to tape. We laid down the rhythm tracks, and when Michael and Nathan (lead guitar player on Epiphany) came back in to do over dubs, Mark Blewett (our sound engineer) said "this is not going to work, either scratch the track all together, or come up with something else". That being said, Michael grabbed his upright bass, played his exact same part only slower, and Nathan came up with the piano line, and Fritter added the crickets. I think they whipped it out in one take! I show up later that day, and Mr B comes up to me, all excited he is, "dude they totally changed Sinners, its crazy but you're gonna love it!".
Sonya: The track "Nightfeast" is an extremely popular Written In Ashes song and appears on the Cleopatra compilation, "The Unquiet Grave". It is also one of my personal favorite songs. Can you tell me why Written In Ashes does not perform this song live any longer; and what plans you might have to perform this song live again in the future?
Kevyn: NightFeast was a part of our repertoire for a long time. Personally, for me it has always lacked that final push over the edge to pure blood lust. However, now with Pete in the band, NightFeast will be resurrected for the tour, as will another song off of Eternal. For those individuals that will be in Portland for the release show, there will be a special treat for long time friends.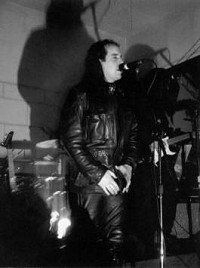 Sonya: The birth of your son, Griffin Asher, prompted you to write the song "(When I) Knew". What other influences has this dramatic life-style change had on your music?
Kevyn: My boy is my life. Everything I do now is for him and my wife Suzanne. It means I have to be home from rehearsal a bit earlier, and we don't go out as often as we like. So its been difficult for us to support the scene as regularly as we use to. We still have people over to the house, and we're still active socially. We just don't stay up till 3am drinking and dancing... Other than that, its forced me to pay attention and to become more responsible for my actions. Most importantly, I'm one member of a partnership that has been charged with caring for a helpless individual that loves us both unconditionally. Its very cool. Some people are opposed to breeding, which is fine, but who will uphold our goals and ideals when we're gone? If we the conservative right or the extreme radicals continue to breed, what will our future be? Who will be govern us? Who will stand up for freedom and equality? Who will fight the good fight?
Sonya: What are the immediate and long term goals for Written In Ashes?
Kevyn: Simple, three things: management, labels support, and another album before years end.