Raz Ohara
Realtime Voyeur (Kitty-Yo)
By: Alex Steininger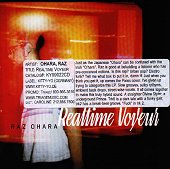 Sultry, funky, and so conventional it's unconventional. Raz Ohara creates a whirlwind of sound and style, bending and blending the time honored tradition of sound into his own wicked toy in which he derives joy and pleasure by twisting everything around and around again before bringing it back to hook and burn you.

Realtime Voyeur is a deep, moving journey through the eyes and ears of music itself, as played by Raz Ohara. His inner thoughts come to life via the music and bring you deep in the heart of the beast. I'll give it a B.