The Ray-Guns
Talentless Fools (Self-Released)
By: Alex Steininger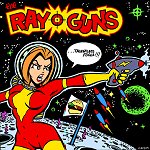 Hailing from Topeka, Kansas, this eight-piece ska band implements hardcore, pop, metal, rock, lots of punk and ska to come up with their own, high-octane sound sure to put a smile on your face. Committed to the music, the band sells their CD's for $6 (the cost of production and manufacturing). Now, how's that for D.I.Y spirit? The band even self-released and produced their own disc. They're all fairly young, too.

"Melrose" begins the disc with a heavy hardcore/metal feel before quickly shifting into some bouncy pop-ska. The conversion even felt nature, which is hard to do. Of course, they slap in some heavy hardcore/metal riffs here and there, but those too feel nature. I wasn't particularly a fan of the hard to pop sound that infected this song, especially when the vocals began to yell, but the song definitely had its strong points and was fun to listen to see how they pulled off the jump.

Sticking with some infectious pop-punk, "One Night Stand" has you jumping up and down with a smile on your face, while throwing hooks in your face and getting you to eagerly sing along. Slicing some ska in into the picture, they give your feet time to dance and move before pumping up the guitars and bursting into some tasty pop-punk. Also an interesting topic, everyone likes to hear about other's 'one night stands' that just don't realize what had happened was a one time thing.

Self-proclaiming themselves as a "punk band with horns that tries to play ska," the band definitely shows their pop-punk roots, focusing on the punk, on a few tracks where they don't even let the ska breathe. They just take it full blast and blare the guitars while cranking out fast-paced punk that gets your heart pounding. Not as interesting, though, without the pop touches, they do offer up a nice change of pace by leaving the ska at the door.

Of course, even when they're pounding out the punk, they get the horns involved to settle the song a bit and give it a nicer feeling. But, nice is overrated. The drums, bass, and guitars play loud and heavy, forcing the horns to usually play along with the heavy parts of the songs. But, when they stop the music and let the horns have their way, a soft demeanor is represented, and gives the listener a quick rest before sliding back into the punk mood.

While listening to this disc you'll be able to dance, hop, bounce, and sing along. If you can do it to music, you can do it to this disc. They aren't always the tightest bunch, or even the best sounding, but they give it their best and the result is power that overcomes you and makes you have fun. And fun, from what I can tell, is what the band is all about. If you want a fun time, you won't be disappointed. I'll give this disc a B+.