Odor of Pears
Crown of Thorns (Self Released)
By: Sonya Brown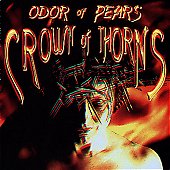 Complete with biblical references, "Fuck Christianity," my favorite track on Crown of Thorns, presents a demonic-electronic Iron-Butterfly sound with stinging lyrics that would make even an atheist cringe. Another favorite track is the haunting processed vocals of Diana Blackwell on the track "Babies Without Faces" (the vocal effects would make futuristic "the number you have dialed is no longer in service" recordings actually sound great!)

A military cadence on "Joan of Arc", and the teasing, nasty, almost 'nyah-nyah' child-like vocals on "Dildo" provide for more favorite moments on Crown of Thorns.

Odor of Pears (Berkeley, California) is a music, multimedia, & performance art group. The lineup includes: Joe K. - Music; Diana Blackwell - Vocals; and Russell Ragar - VISUALS.

I just can't help but feel that I am missing out on something that's really cool by not having seen their live performance! According to the OOP website, "it usually takes two or three months to put a new show together... this includes writing some new songs, tinkering with some old songs, designing staging concepts, and creating all the necessary props, costumes, and visual effects. The show is then rehearsed every day for a week".

"We relocated to Berkeley at the very beginning of the year, and didn't finish Crown of Thorns until mid-summer, so we are actually just now preparing our west-coast debut," Blackwell reports. "We can't wait to start using our new stage rig and light show!"

As much as I would love to see this band perform live, Crown of Thorns, quickly attaining a "most favored cd" status, must keep me satisfied for now.