The Busy Signals
Baby's First Beats (Sugar Free Records)
By: Alex Steininger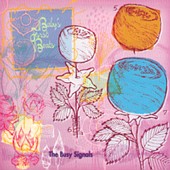 Old school hip-hop drum loops (done without sequencers) wrapped around lush lo-fi pop sensationalism, The Busy Signal's (aka Howard W. Hamilton III) debut effort, Baby's First Beats, is chalk full of 60's pop delight with just the right amount of bounce and rollicking beats.

"Headphoneworld" is a reminder of the good times of pop, when it was about the hooks and the feelings you got when you listened, not looks and marketability. Jangly and danceable, it's the kind of song you would blast on your stereo, holed up in your room riffling through your vinyl and enjoying every minute of it.

"Birds on High" stings you with a scorching organ that flutters over the light, watery guitars, while the lush vocals and sticky melodies become nearly irresistible. The keyboard horn loop that opens "Clogged Airways" is romantically nostalgic, adding a breath of fresh air from the modern, overly-technical sound waves that barrage us every day. "88's and 73'" is the kind of hip-hop melodic pop that has made Beck a household name. And the old school dreamy pop of "Taxidermy" is strikingly naked, yet dressed up and served in a more appealing way than the majority of what passes for pop these days.

Lush, drum loop-driven harmonious pop music that values melody and smiling beats more looks and mass consume-ability, The Busy Signals' are modern pop revivalists, delivering the sounds of yesteryear with a fresh perspective and smart, clean cut hooks. Here is infectious pop music you won't hate yourself for enjoying; I'll give it an A-.