The Busters
Welcome to Busterland (SPV GMBH)
By: Alex Steininger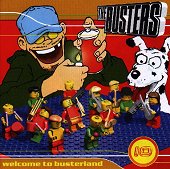 Germany's most successful ska band, The Busters have been around and building their legions of fans since 1987. And, on their tenth full-length, the band shows no signs of slowing down. WELCOME TO BUSTERLAND was developed out of sessions that were then recorded live in the studio, and it shows in the energy level and magnitude of the power here.

"The Rule Of Having Fun" blasts right into action with its slick, bouncy charm and irresistible upbeat. The rhythm section rattles and rolls through some infectious beats, while the organ hums like a bird in the morning. Of course, we can't forget the horns, which blast rays of sunshine into the already happy, very up-tempo beats.

"Let's Talk About..." gets your hips shaking before twisting them right around when the ska comes roaring in. "Beast of the Night" is another charged, out-of-the-box ska number that, with one listen, will instantly send you into a dancing frenzy, sweating and working your feet for all they're worth. The band motto, "No Risk, No Fun," just keeps the high-octant ska coming, boosting you into another stratosphere with its melodic, fiery ska beats.

"Fish" slows things down a bit with a rocksteady groove around a ska beating heart. And, then on their cover of the Queens' classic, "We Are the Champions," the band reaches their utmost wackiness, putting a smile on your face, and getting you to bounce around.

Going back to track one, "The Rule Of Having Fun," rule number one should be owning this album. It's great to dance with, laugh too, or just enjoy. It's all here, so dance, don't walk, and pick up a copy. I'll give it an A-.