Haggis
What's Up Haircut? (Epixuti Records)
By: Bernadette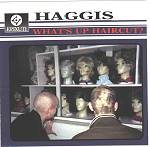 With a rump-shaking pop-punk sound worthy of a Clash tribute album and lead guitarist Brian Talenti's commanding, Deep Purpleish guitar riffs, Arizona-based Guiness-lovers Haggis are creating quite a stir on the underground circuit. Their debut LP, WHAT'S UP HAIRCUT?, and their critically-acclaimed, high-energy live shows have the masses buzzing to the point where their as-yet-unreleased sophomore effort, tentatively titled PIPER DOWN, has been eagerly anticipated in underground and droner circles.

This 22-minute LP kicks off with the toe-tapping "Hot Rod," which is imaginably sonic enough to knock down a building when played live. It's quite Beatlesque in nature, a trait which never hurt the Gallagher brothers in all their cavorts, but also has memories of Luka Bloom in the mix. Lest you think them alternative. Haggis also shamelessly rip into Blur's "Song 2" with various interspersals of WOO-HOO!'S throughout the album. It's almost like playing name-that-riff with Velveteen-era Transvision Vamp, and like them, Haggis cheerfully and cheekily keep you guessing.

Their finest hour comes in their final song,"No One Cares". It is, contrary to what the title may suggest, not an angst-ridden slacker anthem, but a floor-clearing finale quite up to par with the band's obvious raw, live energy.

No one will argue that there is something seriously troubling the Haggis boys: haggis, for those who don't know, is a Scottish stew that serves sheep innards in an oatmeal and intestine base, and bass player Moon happily admits his willingness to fight anything and anyone for a ham sandwich. For what it's worth, though, these boys play good ass music. And any friend of Guiness stout . . .GRADE: A. If it's not Scottish, it's CRAP!