Hairy Apes BMX
Expatriape (Artist Workshop)
By: Alex Steininger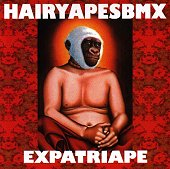 Besides having the worst name in music, Hairy Apes BMX (Hair Apes Butt Moving Xperience), the Hairy Apes dish out quirky, groove-laden funk-hop. Featuring members of Critters Buggin, Cottonmouth, TX, Billy Goat, and Whitey, HABMX deliver an unusually funky sound sure to make you want to get down and move.

"Jimmy Hat" is a suave, greasy funk number that flows well with a groove-hop twist; "Relapse King" is a Caribbean hip-hop piece that is equal parts frantic and punctual; and "Breakfast" is a sliding groove that will slip itself over eyes and take you for a ride.

Their name is pretty much shit, but their sound is quirky, fresh, and unusual enough to make you keep coming back for more. A twist of originally really sparks the listener's interest in any sound, and they've got that going. I'll give it a C-.