Dealership
Secret American Livingroom (Self-Released)
By: Alex Steininger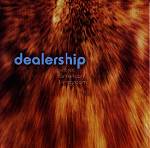 Berkeley, California's Dealership is an indie-pop band with muscle. They create sweet, harmonious pop tunes that are crunchy and edgy or soft and sweet. On their debut EP, they prove to be an up-and-coming band with the chops, talent, and pop tunes to take them somewhere.

"Jungle Gym" starts off with a bouncy rhythm that will dance around in your head while the song is coming out of your speakers, and echo for hours later. Chris Groves' lead vocals fuse nicely with Miyuki Jane Pinckard's sweet girl backing vocals. The song is sugary and energetic, but remains at a mid-tempo pace all the way through, even when the guitars turn completely fuzzy and warm you up with some fuzz-pop.

"Nerdy Girl" shows another side of the band, a more sensitive, dreamy side to the band. Instead of relying on guitar fuzz and a scorching hot pop beat, they settle down to give the listener a song that will have them sitting back in their chair absorbing each word, note, and beat the band plays. Once again, the lead vocals of Chris and the backing vocals of Miyuki Jane blend well and help create a soft, inviting harmony to indulge in.

Picking the pace up, "Fallout" shows the pop-punk side of the band as they crank it all up and throw caution to the wind. The band hammers away like a good pop-punk band, but the sweet pop melodies are still their main focus.

Ending with "Green," the band once again serves up some tight pop hooks and bouncy beats just like they opened with. The vocal trade off helps push the song to a higher energy level, while the drums keep you bopping around and the guitar hums along with some warm, fuzzy chords to brighten up your day.

This band is all about fun. Whether they're tackling the awkwardness of youth or other aspects of youth culture (which heavily influence the band's lyrics), they'll always make things easy enough to swallow, and relate-able to their audience, so you'll have a blast. I'll give this album an A.